awaken your prayer life!
Awaken energizes, nourishes, and amplifies your prayer life, using the convenience of technology. Use our many custom features and tools to grow in prayer, grow in faith and grow in God's love.
helping you reach your prayer potential
sign up for free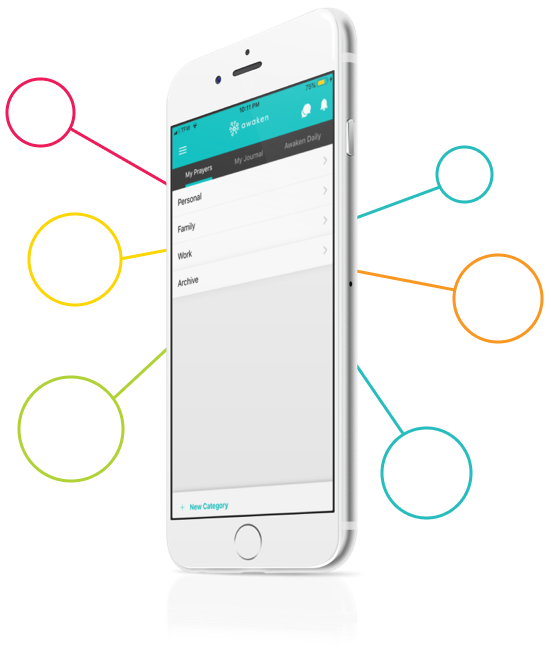 awaken empathy
Prayer can be a passport for your life's journey.
awaken priorities
Prayer gives you power to effect change, at home or anywhere in the world.
steward your personal prayer life
Where will God lead you? Find out when you use more than 30 custom features to grow in your faith.
Intimacy
Cultivate obedience. Practice communion and intimacy with God. Renew your mind in the Word.
Focus
Centralize your prayer life. Create prayer lists. Track your prayers and manage prayer requests.
Joy
Serve, minister to and interact with others. Share the victories. Record your thoughts, feelings and conversations in a journal.
connect with others
There is strength in numbers. Awaken can connect and create a whole new world of prayer.
awaken connection
United in purpose
Create your own prayer group or connect with others around the world.
Organization
Effectively manage and easily communicate with your entire prayer group via the tools on your dedicated group page.
Community Prayer Lists
Post prayers to the awaken community and pray for requests next door or from around the globe.
Encouragement
Share burdens and joys. Encourage others when answers are shared.
awaken prayer anywhere
With our full-featured website or easy-to-use mobile platform apps, you can use Awaken anywhere and anytime you want to talk to God.
Set up prayer lists and schedule your reminders.
Begin to pray regularly.
Connect with others by joining or creating a prayer group. Send someone an encouraging message. Share your requests and answers.
Use the journals and answers archive to record how God's goodness transformed your life.
It's time to grow in faith and in God's love. It's time to act and impact the world. It's time to Awaken Prayer.

Donate

Start your adventure

Welcome Back